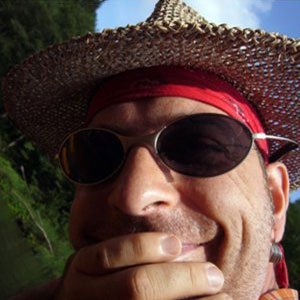 My name is Fabian Rosenkranz. I work as a freelancing animator and illustrator in Berlin, Germany. I started freelancing in 1997 and have been self employed ever since. I love character related work and most of the jobs I have been hired for over the last years have been character or cloth related. However, during my career I have touched almost any area of 3d work, including modelling, sculpting, architecture and product visualization, rendering, technical rigging, script and plug-in development, motion graphics and simulations.
My background is more artistic than technical. As a young adult I wanted to draw comics. I started to work with the Computer rather late and initially without much enthusiasm. So it surprised me as much as anybody else to discover that I not only enjoyed 3d, but also writing code.
By shifting the focus of my 3d work more and more towards character animation, I have come very close to what I dreamed of as a young man: telling a story with images.
Here's a list of the things I'm usually hired for. Don't hesitate to contact me to find out if I'm currently available for work.
character animation

character rigging, facial rigging

cloth simulations, cloth modeling

any other type of 3d animation

3d training
plug-ins & scripts

modelling & sculpting

UV layout & texturing

particle and dynamic setups

lighting & rendering
a few words about the software I use